There is no other art form that pique children's' interest and passion like music. From infancy children use their voices in musical ways. Parents and families ignite children's musical senses by singing lullabies, children's rhymes and jingles while using movements to engage children. These early musical experiences are precursors to developing children's musical intelligence and creating a musically active home environment.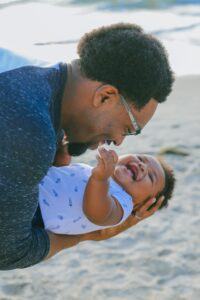 LarryCrayton
All children  possess musical potential. Parents and families are therefore early influencers and are expected to provide the opportunities for children to hone their musical skills so that they can expand their learning in building interdisciplinary skills in science, technology, engineering and mathematics (STEM). Honing children's musical skills is one of the best ways to support STEM awareness.
Musical Intelligence and STEM Learning
Music is made up  of melody, rhythm, and harmony. These building blocks are processed by different areas of the brain, which, in turn shape human experiences. Music activates dopamine in the cerebral cortex system in the brain of children. This results in the regulation of attention, memory, learning, emotion and decision making. It therefore provides brain motivation by enhancing connectivity in the motor and multisensory regions of the brain. When this happens, children are able to build executive function capacity, focus attention, which means they are building attention span and self -control. This will result in improved learning performance and therefore provide interdisciplinary links for learning across STEM areas.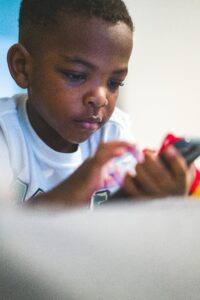 Jeremy Alford
Research has shown that merely listening to music affects children's intelligence. This means music affects a child's developing brain. It enhances the child's ability to think and reason ( scientific principles), increases language, sound development and discrimination, improves math ability, improves school grades, better adjusted social behavior, and improvements in spatial temporal reasoning.
Howard Gardner, distinguished education researcher proposed eight types of intelligence. These are: verbal-linguistic, logical-mathematical, musical-rhythmic, visual-spatial, bodily-kinesthetic, interpersonal, intrapersonal, and naturalist. Studies have shown that, musical intelligence directly affects the seven other intelligences. It also develops higher order learning functions required for children to learn core concepts across subject matter and enhance  their creativity.
Benefits of Music
Promotes children's self -worth and build confidence and relaxation
 Support children in remembering complex concepts
 Helps children to freely express self through the arts; thus, improving emotional intelligence and social skills
 Allows children to communicate their ideas, knowledge and understanding about the world
 Enhances children's bodily-kinesthetic, intelligence
Builds foundational STEM skills such as: discrimination, sequencing, categorizing, arranging, attention span, creativity, critical thinking, spatial skills, communication skills, collaboration, listening skills, decision making skills  and problem solving skills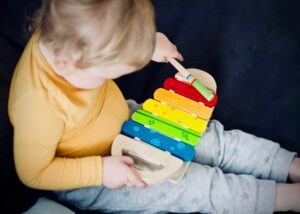 Jelleke Vanooteghem
Honing My Child's Musical Intelligence
Parents and families should be deliberate in developing children's musical intelligence. This can be done using creative strategies. Creativity is the energy that drives and fuel the acquisition of skills. Activities can be developed for children to allow them to develop and gain practice in composing, performing, listening, appraising and having knowledge and understanding to link learning across interdisciplinary subject areas.
Children can be assisted to explore sounds in a variety of ways including:
Manipulating objects to produce sounds using for example beats and rhythms
Imitating sounds, discriminating between sounds
Classifying sounds; sequencing sounds
Improvising with instruments; encourage divergent thinking through improvisation and composition
Organizing sounds to communicate ideas and feelings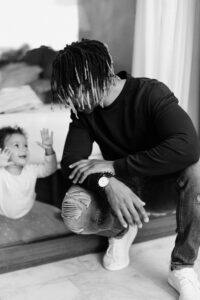 Humphrey Muleba
Parents and families can also help children to develop musical intelligence by:
Helping them to focus their attention on the music itself
Encouraging them to remember the music as it goes along
Singing: with them, segmenting parts of songs using call and response
Asking them to listen for and describe how one element at a time is used e.g. pitch, tone, volume, rhythm, patterning by targeting certain parts of the music e.g. the beginning, middle and the end
Providing musical instruments for practice
Use songs, beats, rhythms and composition  for them to learn and memorize concepts and skills in math and science
.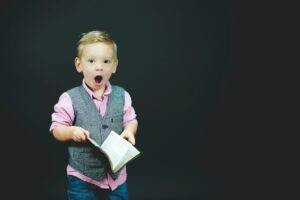 Ben White
Recommended Musical Instruments
A range of research and experiences suggest, it is appropriate for children to begin music lessons at an early age. It is well-known that many famous composers/ musicians began music lessons as young children. Learning to play a musical instrument, has been found to have many benefits for building children cognitive development and STEM skills.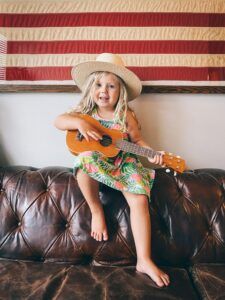 Colin Maynard
Some musical instruments children usually start off playing include the piano, violin, guitar and recorder; these seem to be the most popular ones. Pianos are a well-known instrument, however, the electronic keyboard popularized by modern singers is less expensive and easily obtained option to start off with.   Parents and families can register children with a tutor of choice to commence lessons for playing child's instrument of choice and interest. It is very important that tutors are trained to motivate and expand children's experiences in learning to play. There are a number of online music classes that parents can check out.
Children can be given musical toys at home to ignite their musical intelligence. There are a number of musical toys available based on children's age and stage of development. Interactive and multisensory toys are recommended  to hone STEM skills. What better place to find these toys than on Amazon. Click to find  Toys we love
and purchase.
Parents and families also have the option to enhance older  children's musical intelligence through the use of Musical Instrument Digital Interface (MIDI) technology. MIDI involves computers, electronic instruments and software for intercommunication. MIDI -compatible electronic keyboards are equipped with attachments that connect with other MIDI devices. Musical sound is encoded into digital information to be read by the computer. Aspects of musical sound, such as pitch, and instrument, are assigned numbers. As MIDI instruments receive these numbers from the computer, the appropriate sound is produced. The ability to create, edit, and re-create music is the ultimate power of MIDI.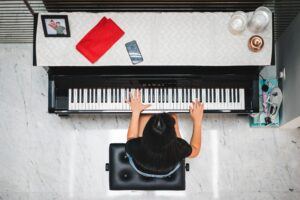 Jonathan Chng
Disclosure-This page has affiliate or referral links. As an Amazon Associate I earn from qualifying purchases. This means I receive a small commission if you decide to click through and buy anything. This is at no extra cost to you but helps me to maintain my website. The information in this post is based on research and my professional experience. I am not paid for my opinions, suggestions and or recommendations. I take the time to research resources and make them available to you. I never recommend poor-quality products or create false reviews for sales. You are free to make your own decisions when purchasing. Full Disclosure
Top Choice
Here is my top recommendation for purchase. Give your child the best opportunity at an early age to develop musical intelligence. Please click at the name of the keyboard below and purchase on Amazon.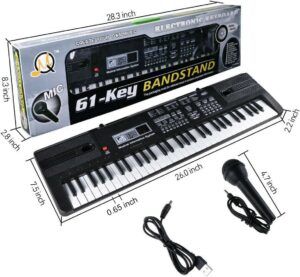 HIGH QUALITY MATERIAL: This kids piano keyboard made of non-toxic environmental protection plastic, security and very kid friendly, fine workmanship and smooth edge design, children will not hurt.
 PORTABLE SIZE: Keyboard size is 66*19*5.5cm / 26*7.5*2.2inch, Perfect for ages 3+ years, Please Note That It Just A Kids Toy! SINGLE SPEAKER! The microphone without amplification function, just used for decoration.
♫ 61 KEYS KIDS PIANO MULTIPLE FUNCTIONS: Piano keyboard USB power supply and battery supply / English instruction / Microphone / USB DC cable / 16 kinds of timbre / 8 kins of percussion instrument recording / 10 kinds of rhythm / 6 demos / 61 black and white keys/ Piano mat comes with Record, Playback, Demo, Play, Adjustable Vol.b.
♫ FREE PLAY AND A VARIETY OF MUSIC STYLE: Kids not only can play the keyboard with the music, but also can sing a song. You will enjoy your kids' songs. In addition, kids can improve their intelligence because it can put the music into the game and let them feel the rhythm and the beat during the process of playing.
♫ EDUCATIONAL TOY: Record & playback function, professional and suitable for beginner to practice. equipped with external microphone, enables your kids enjoy wonderful music. Kids can learn, play, and let your child fall in love with music.
Take-A-Ways
All children possess musical potential. Parents and families ignite children's musical senses by providing opportunities from an early age for children to develop their musical intelligence. Parent should be deliberate in providing music related activities and exposing children to playing musical instruments. Honing children's musical skills is one of the best ways to support STEM awareness.
Studies have shown that musical intelligence directly affects the seven other intelligences. Musical intelligence develops higher order learning functions required for children to learn core concepts across subject matter and enhance their creativity.
This post was written for parents and families to support children's STEM awareness through  developing their musical skills. I hope you found it of value to you.
I welcome you sharing your child's experiences using these suggested resources. Please feel free to leave your opinions, ideas, comments, and questions relating to this post below. I am more than happy to respond to you in a timely manner.
You are free to share or like this page on any of the above social platforms. Click on them (Twitter, Facebook, Pinterest) on the top right of the page.
Thank you for stopping by and have fun engaging your children!
Tracy-Ann Morgan-Smith, PhD, JP