STEM-literate citizens are needed in 21st century society to advance science, technology, engineering and mathematics (STEM). The future of the global economy will rely on the expertise of those occupying STEM careers. Families, parents and teachers are entrusted with the task of harnessing children's spatial intelligence by making deliberate efforts in providing tools, resources and opportunities for children to leverage their creativity and spatial skills. Research shows that, children spatial skills are related to STEM learning. Spatial intelligence is therefore recognized as the engine for unearthing children's imagination and creativity for: visualizing, designing, assembling, building, locating, arranging, sketching, pattern making, estimating, measuring, evaluating,  problem solving and communicating.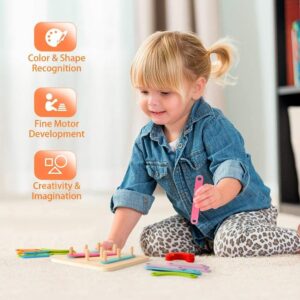 Amazon
The Importance of Spatial Intelligence
Spatial intelligence can be defined as the ability to mentally manipulate objects or spatial configurations. It  is related to the locations of objects, their shape and size, their orientation, symbolism, direction, trajectory and relative positions.
Spatial intelligence is therefore needed in our everyday situation, such as the way we stock groceries, arrange furniture in a room, give direction to someone and communicate location. Spatial intelligence has been widely studied by experts. According to them, spatial intelligence: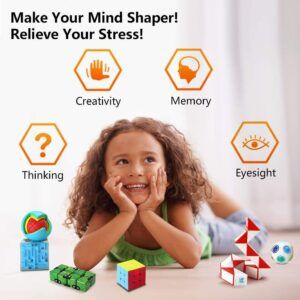 Amazon
Is fundamental to higher-level thinking, reasoning, problem solving and creative processes.
Is recognized as requisite for successful careers in mathematics, geometry, biology, medical imaging (MRI), space and Earth sciences, physical sciences, geography, cartography (GPS), model building, engineering, technology, architecture, and air traffic control
Predicts future success in STEM
Building Children's Spatial Intelligence
Research has proven that; practice and training can improve spatial intelligence. Families, parents and teachers may engage young children in play by providing them the tools to harness their spatial skills. Activities such as construction play, (this involves building with blocks, using LEGO, colored tiles/ cubes, shape board); playing hop scotch, dancing to beats and musical rhythm through movement, doing art and craft activities and doing puzzles.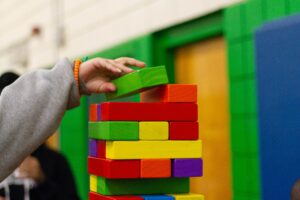 Larel Easter
These activities aid in building young children's spatial intelligence. Pretense play that allows children to form mental imagery and carry out their construct is also excellent practice for building children's spatial intelligence. From preschool to adulthood spatial concepts such as left/ right, inside/ outside, near/ far, up/ down, front/ center/behind, curved / straight are basic blocks in acquiring spatial intelligence.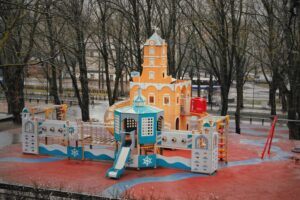 Agnese Kisune
As children move on to middle school, spatial intelligence becomes critical to the learning of mathematics and science. Symbolic expression and spatial reasoning are needed to communicate and gain understanding.  Children will now need to have an appreciation for 3 dimensional (3D) objects. Children will be guided to expand their spatial knowledge from 2-dimensional shapes to perceive shapes in space from a 3D perspective. They will view shapes and or objects as they are rotated or transformed in space.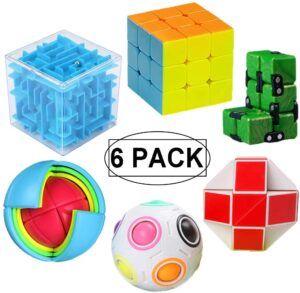 Amazon
Teaching children fractions by giving them tangible cut outs to teach parts and whole are excellent spatial activities. Children can also be taught how to use graphical representation by using picture and bar graphs. Graphs are standard tools in math and science and they bring out numerical and spatial relations. Using maps and diagrams with children at this stage also provide multiple numeric and spatial relations. Children can be guided in making own diagrams and maps of a layout of their block and locate their house.
Jason Leung
Let children use landmarks in map making. Children will gain spatial understanding regarding their own location to land marks and other places on the map in relation to the real world. This is how GIS works and they need to understand this. Giving them practice by using the world map for them to find their location in terms of other countries and places on the globe aids in expanding their spatial awareness.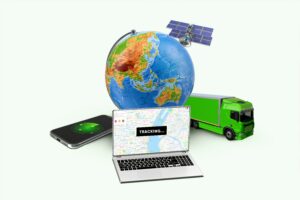 Morning Brew
Allowing children to form spatial imagery in solving math problems can be practice through worksheet missing addend problems, i.e.  5 + __ = 7. Children would need to visual seven objects making the set and if five are present, them the whole which is seven,  is made up of 5 and 2. The same principle may be applied for other mathematical operations. Reading left to right for understanding mathematical and literacy tasks is an element of spatial thinking. Allowing children practice in doing  crossword puzzles also support their spatial intelligence.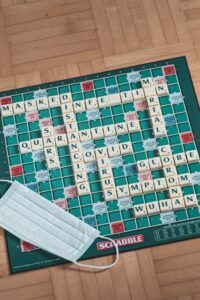 Florian Schmetz
Parental Choice
Parents and families are key players in harnessing children's spatial intelligence for their success in STEM. Here are some recommended activities that may be use to harness your child's spatial intelligence:
*Playing with construction toys (eg. Lego)
*Pretense play
* Playing 3D computer games
* Doing jigsaw puzzles
*Playing checkers or chess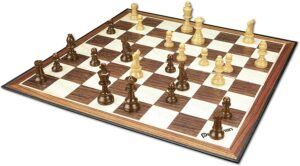 Amazon
* Playing video games such as Tetris
* Doing a word jumble
*Classifying or serially ordering objects
* Constructing a Mobius strip
* Creating concept maps, tree diagrams, flow charts, and Venn diagrams
* Identifying and classifying letters, shapes, flowers, and animals as being symmetrical or asymmetrical
*Playing logic games
*Fitting and manipulating cube puzzle
*Using digital drawing tools and zooming devices
Disclosure-This page has affiliate or referral links. As an Amazon Associate I earn from qualifying purchases. This means I receive a small commission if you decide to click through and buy anything. This is at no extra cost to you but helps me to maintain my website. The information in this post is based on research and professional experience. I am not paid for my opinions, suggestions or recommendations. I take the time to research the resources and make them available to you. I never recommend poor-quality products or create false reviews for sales. You are free to make your own decisions when purchasing. Full Disclosure
Top 3 Recommendations
Parents and families here are my top 3 picks for you(shape board, cube puzzle and chess game). Number 1 is recommended for children ages 2+ to 5 years and number 2 for middle schoolers and older and number 3 for children 8 years and older. As the holidays approach, please ensure to be purposeful about gift giving. You can select from among any of my top three. When you give such a gift, you will be ensuring that your child will be supported in developing spatial intelligence. This is a great investment for a little cost.
Click on the name of the item to purchase on Amazon.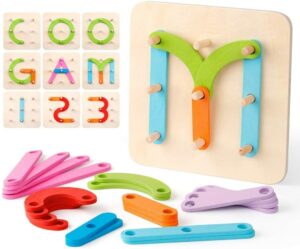 Click on the name of the item above to purchase on Amazon.
Colorful Column: Wooden Stacking Blocks includes 26 pieces, 7 different shape and color. Board size: 6.7 x 6.7 x 1.26 in, weigh 9.8 oz. You can combine wooden blocks into the shape of A to Z(0 to 9), or chair, home, flower, butterfly, rose, Chinese character, mathematical geometry, etc.
Safe Material: Coogam Letter Construction Activity Set are made of non-toxic paints, and high quality  wood finishes, no injury. The board itself has been thickened and strengthened so not to easily bend or break. Small smooth pieces with light weight, sturdy enough for multiple uses
Easy Playing: The pieces have small divots and pegs that snap in to each other so that they don't fall apart after assembly. All the pieces snap securely together, the packaged way is very easy to pull the pieces apart for use. great quality control on this product.
Skills Development: Integrated with counting, naming the shapes and reading colors encourages hand-eye coordination and imaginative play, develops fine motor skills. A great activity of refreshing to build the letters and not just recite them. Comes with instructions on how to put each letter together and have come up with many games and other ways to use them with.
This product is up to safety standard ASTM, CPISA, EN71, CPC.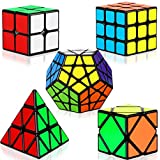 Amazon
Click on the name of the item above to purchase on Amazon.
Fast Smooth Turning Cube Puzzle: Well-engineered magic cubes with good cornering and easy smooth twisting, this 5- pack magic cube bundle provides joyful cubing experience. It's a must-have to your collection of speed cubes.
Brain Teasers: Educational toys combining education & entertainment — solving the speed cube is a good way for brain training, improving kids' memory, concentration, patience, logical thinking, spatial thinking, and hand flexibility.
Sturdy & Durable 3D Puzzle Cube: Made of safe and quality ABS material, flexible and stable and environmentally friendly, these are speed cubes that will last.
Perfect Gift: Ideal birthday and holiday gifts (Christmas, Thanksgiving Children's Day, etc.) for boys, girls, teenagers, adults and elders, for beginners and professionals.
Warranty: Products undergo a rigorous quality inspection. If products fail to meet your expectation, you can ask for Full Refund or Replacement.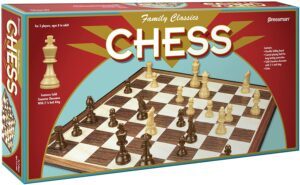 Amazon
Click on the name of the item above to purchase on Amazon.
Chess is a two-player strategy game played on a checkered board with 64 squares arranged in an 8×8 grid
Chess Family Classics edition is perfect for both beginners and experienced players
Features heavy duty folding chess board for easy storage and years of play
32 black and ivory Staunton chess pieces, with 2.5″ King
Manufacturer recommends game is suitable for ages 8 and up and for 2 players
Just in case you are interested in purchasing other toys related to the activities mentioned in this post,  you can go to Amazon by clicking
here TOYS WE LOVE
to find your toys for building your child's spatial intelligence.
Take-A-Ways
This post was written to assist parents, families and teachers in harnessing children's spatial intelligence through meaningful activities for practice so that they attain STEM fluency. Research has proven that; practice and training can improve spatial intelligence. Spatial intelligence is recognized as the engine for unearthing children's imagination and creativity for visualizing, designing, assembling, building, locating, arranging, sketching, pattern making, estimating, measuring, evaluating, problem solving and communicating.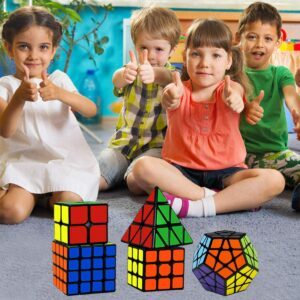 Amazon
It is my desire that you found this post of value and that you will make good on the recommendations offer to hone your child's spatial skills.
Please feel free to leave your opinions, ideas, comments, and questions relating to this post. I am more than happy to respond to you in a timely manner.
You are free to share or like this page on any of the above social networks. Click on them (Twitter, Facebook, Pinterest) on the top right of the page.
I welcome you sharing your child's experiences using the suggested resources. Thank you for stopping by and have fun engaging your children!
Tracy-Ann Morgan-Smith, PhD, JP