Research in child development underscore the importance of early stimulation and the development of cognitive skills on later academic outcomes for children. Twenty –first century skills are essential to the success of science, technology, engineering and mathematics (STEM). Children learn through the senses and one critical sensory element needed to interpret and make sense of what is seen is visual perception. Good visual perceptual skills are very important to STEM success, academic and every -day performance. Teachers, parents and families must understand its importance and facilitate activities to support and build children's visual perceptual skills so that they can realize their full potential in the STEM field.
kraken images
What is Visual Perception?
Visual perception is the brain's ability to interpret and give meaning to what is seen. This is a huge amount of work when you think of how many visual stimuli the brain processes every second for us to make meaning of, think, solve problems, take actions and make decisions. The visual senses act like windows to the brain. They capture the data and make sense of them. To figure out how this is done there are visual perceptual skills that form the building blocks for good visual perception. These include:
Visual Discrimination: The child's ability to interpret, identify, differentiate and distinguish differences or similarities in letters and numbers and in objects based on size, color and shape. Visual discrimination is critical to reading and math as children must be able to distinguish letters to pronounce words to make meaning of what is written; the same for numbers and symbols.
Tam
Visual Memory –The child's ability to remember the visual details of what the eyes have seen (visual traits of a form or object). The child is able to state what number, letter, word, symbol etc was seen.
Sequential Memory – The child's ability to remember visual details in the correct order or sequence seen.
Visual spatial relationships- The child's ability to understand where the body is in relation to other objects and people within the environment. It also includes being able to identify different shapes and understand distance. (Perception of shapes and depth perception).
Figure-Ground Perception – The child's ability to focus on something and block out the irrelevant images. An example- sending your child to the toy box to select a specific toy from among other toys.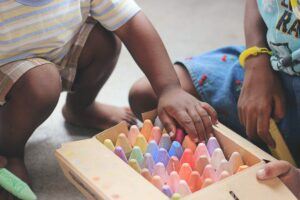 Tina Floersch
Visual Closure – The child's ability to recognize things or objects when only a part is visible.
Form constancy- The child's ability to recognize objects in different environments and from different angles. Fitting a jigsaw puzzle is an excellent example for building form constancy.
Visual Attention: The child's ability to focus on important visual information and filter out unimportant background information.
Visual motor integration– The child's ability to effectively communication between the hands and the eyes; usually termed, eye-hand coordination.
Chris Benson
Why is Visual Perception so Important?
Visual perception is fundamental to all learning. It analyzes, interprets and give meaning to all incoming sensory data in connecting previous knowledge and new information to form the reservoir of knowledge. The more visual sensory experiences children have the richer their perceptions and the greater their learning will be. It is important to note, visual perceptual skills do not operate in isolation as other sensory perceptual skills aid in making interpreting and aiding in learning. These other sensory perceptual skills include auditory, olfactory, gustatory, tactical and motor perceptions. That is evident when a child is able to visualize delicious cookies after smelling the aroma of baked cookies without actually seeing them.
STEM Activities to Build Visual Perceptual skills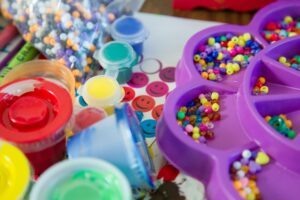 National Cancer Institute
Teachers, parents and families may provide a number of activities to assist and encourage children in building their visual perceptual skills to ensure positive learning STEM experiences and outcomes. Here are some activities for consideration.
Games include: "I spy ", hand clapping games, memory games, word games, hidden picture games, number games Mr. Potato Head, Four Square, board games, ball and balloon games.
Other Activities:
Assembling construction toys
use pegboards to create patterns
Matching 2D shapes to 3D objects
Copying 3-D block designs
Building puzzles
Drawing, painting, cutting, pasting, folding
Cube sequences
Size, color and shape sorting
Track colored water traveling through clear PVC tubing as it is siphoned from a water trough into a bucket
Shadow tracking
Throwing beanbags through hoops
Catching bubbles
Practice completing partially drawn pictures
Connecting the dots
Stringing beads
Lacing activities- lacing cards, lace-up stockings
Spatial activities to determine spatial concepts such as "in, out, on, under, next to, up, down, in front of, left, right.
Disclosure-This page has affiliate or referral links. As an Amazon Associate, I earn from qualifying purchases. This means I receive a small commission if you decide to click through and buy anything. This is at no extra cost to you but helps me to maintain my website. The information in this post is based on research and professional experience. I am not paid for my opinions, suggestions or recommendations. I take the time to research the resources and make them available to you. I never recommend poor-quality products or create false reviews for sales. You are free to make your own decisions when purchasing. Full Disclosure 
Top Recommendations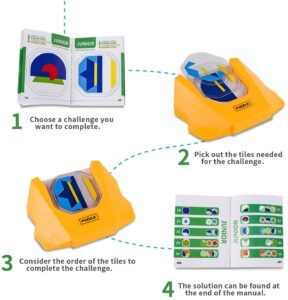 Amazon
Challenging Board Games for Kids ★:Elovien geometric puzzle game is an educational logic game. First select the pattern you want to complete from the manual, and then select the tiles you think can complete the pattern from the 18 tiles. Think about how to arrange the tiles, and then complete the pattern puzzle challenge! Finally, you can check the answer at the back of the manual.
★ Difficulty Levels from Simple to Difficult ★:The color brain-teaser game includes 4 difficulty levels: simple, junior, intermediate, and senior, has a total of 100 challenges. The difficulty gradually increases, let your children continue to challenge themselves. The clear instructions have answers to each challenge for reference.
★ Kids Skills Building ★:This IQ puzzle game is designed to encourage your kids to think about problems on their own and find ways to solve them. It allows children to exercise logic, visual perception, planning, problem-solving ability and concentration while playing.
★ Make Family Time Meaningful ★:How to stop children from indulging in electronic products? This family board games is a good choice for parents. It increases the interaction between parents and kids and enhances the parent-child relationship. It is also a good assistant for children to play and think together.
★ Safety Always Comes First ★:Our logic game are made of non-toxic, safe, and high-quality materials, with a smooth surface that will not hurt children's hands. It is the best choice for family party, class party, travel, camping in the wild, and also the best holiday, Christmas gift for boys and girls over 3 years old.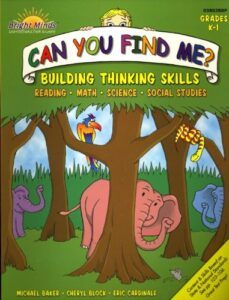 Amazon
This fun, colorful 112-page book of mind-building riddles introduces young minds to critical thinking and organized analysis. To solve the riddles, students practice the following: Identifying Similarities and Differences, Forming/Following Sequences and Patterns, Classifying Objects and Groups, Identifying/Interpreting Analogies, and Logic.
The riddles also teach the following concepts found in most state and national standards: Math–counting, shape and number recognition, recognizing and completing patterns, spatial position, more/less/equal, ordinal numbers (first, third, etc.), part/whole measurement.
Reading Readiness–letter recognition, rhyming words, letter-sound association, letter sequence, sight words, directionality; Science–animal attributes, weather/seasons, senses, body parts, plants/plant growth, force/motion.
Social Studies–family, community helpers, health and safety, identifying locations. Each riddle requires identification of two or more clues to deduce the answer. Students either point to a picture or verbalize the answer. Activities may be enhanced by teaching additional information about the animals, objects, shapes, letters, and numbers used in the riddles. This book includes answers and a chart of the skills developed in each activity.
Take-A-Ways
This post pointed out the importance of visual perceptual skills to learning and STEM success. Visual perception is the brain's ability to interpret and give meaning to what is seen. It is fundamental to all learning. The more visual sensory experiences children have the richer their perceptions and the greater their learning will be. A number of visual perceptual activities were sited and two top recommended resources suggested to parents, families and teachers to hone children's STEM awareness.
It is my desire that you found this post interested and that you will make good on the recommendations offered.
Please feel free to leave your opinions, ideas, comments, and questions relating to this post. I am more than happy to respond to you in a timely manner.
You are free to share or like this page on any of the above social networks. Click on them (Twitter, Facebook, Pinterest) on the top right of the page.
I welcome you sharing your child's experiences using the suggested resources. Thank you for stopping by and have fun engaging your children!
Tracy-Ann Morgan-Smith, PhD., JP