Science, Technology, Engineering and Mathematics (STEM) Skills are the engine that drive 21st century innovation. Generation Z need to be knowledgeable and equip to function in a STEM society. Society is data driven and our children must be socialized to have an understanding and appreciation of how to collect and analyze data. As data become meaningful, Artificial Intelligence (AI) is a result of a society's success on using data to allow machine to think and do human actions. So, what is Artificial Intelligence? What are its benefits to our children? How does STEM skills support children in learning Artificial Intelligence?
Markus Winkler
What Is Artificial Intelligence?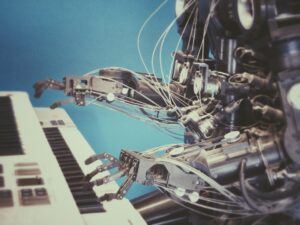 Possessed Photography
Artificial intelligence (AI) refers to the programming of machines to think like humans; similar to how humans learn and solve problems and to mimic human actions. Data is the essence of AI. Algorithms play a critical part in the structure of artificial intelligence. Machine learning allows computer programs to automatically learn from and adapt to new data without human assistance and Deep Learning allows automatic learning through the absorption of extensive amount of unstructured data. Artificial intelligence has become part of life and has been used in multiple fields and industries even in the home where games are played by our children. AI is considered the skill of the century. Artificial intelligence applications are extensive and our children are fascinated about its usage. Exposing children to these applications allow for greater insight and innovation in the STEM field.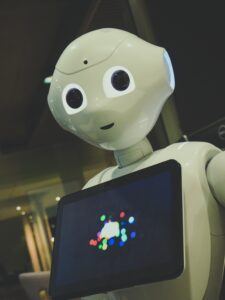 Owen Beard
Benefits for Children in learning Artificial Intelligence
Artificial Intelligence technology is been used in a number of industries such as computer science, space science, health care, finance and automobile and others. Therefore, it is an area of interest to guide children's career path. Just how demanding is this field? According to a report from the World Economic Forum (WEF), Artificial Intelligence can create almost 58 million jobs and contribute up to $15.7 trillion to the world economy by 2030.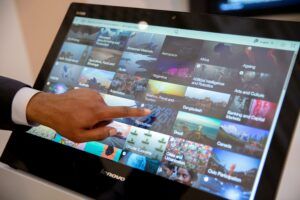 Evangeline Shaw
Not only will there be jobs available but high paying jobs in this field. The scope of applications also leads to boost imagination, creativity and innovations leading to further insights. The use of applications also promote problem solving, critical thinking and data fluency. These critical skills power developments in artificial intelligence and make new innovations possible. Once the human mind can conceive it, the human mind can achieve it. Just how far AI will go is dependent on how much humans can conceive.
Ways to Aid Children to Develop STEM Skills 
Parents, families and teachers may start children early with skill building activities in problem- solving, critical thinking, mathematical reasoning, patterning and coding. These are 21st century skills that are very important in learning AI. Here are some important facts and activities from 4 posts on this website to support children's learning in these key areas. Click and read.
Building Children's STEM Awareness Through Coding | STEM Education 4 Children (benefitsofastemeducation.com)
Building Children's Number Sense for Success in STEM | STEM Education 4 Children (benefitsofastemeducation.com)
5 Top Critical Thinking Activities for Children's Progress in STEM Learning | STEM Education 4 Children (benefitsofastemeducation.com)
Why is Patterning so Important to Your Child's STEM Fluency? | STEM Education 4 Children (benefitsofastemeducation.com)
Robo Wunderkind
Gamification may be used to teach applications this creates interest and may have elements of fun for children allowing motivation for learning. Make a game in Scratch that uses the computer's ability to recognize it. Teach a computer to play a game this is machine learning application. Computer programs like Siri or Alexa use smart technology to recognize speech and to respond.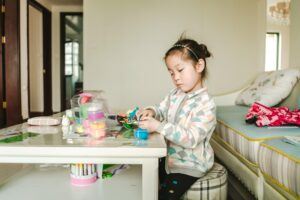 Jerry Wang
Robots such as Oz Obots allow children to learn coding skills. Sphero can be programmed using any of its three on board languages — macros, Orb Basic or Oval to display color. Drones may be used as teaching tools as well. Older children can learn and have real life experience in distance calculation and coordinate mapping. Parents, families and teachers are key stakeholders in supporting children's learning. They must provide the opportunities and tools necessary to drive learning and discovery. Here are some resources recommended to aid children skill development in Artificial intelligence learning.
Disclosure-This page has affiliate or referral links. As an Amazon Associate, I earn from qualifying purchases. This means I receive a small commission if you decide to click through and buy anything. This is at no extra cost to you but helps me to maintain my website. The information in this post is based on research and professional experience. I am not paid for my opinions, suggestions or recommendations. I take the time to research the resources and make them available to you. I never recommend poor-quality products or create false reviews for sales. You are free to make your own decisions when purchasing. Full Disclosure
Top Recommendations
Here are my three top recommended resources for your child. Click on the name and purchase on Amazon.
Recommended for younger children:
Amazon
Kick-start your future genius!
Tinker Toddlers is a series designed to introduce first nonfiction emerging STEM concepts to babies, toddlers, and preschoolers.
This set of science e-books is perfect as a gift for your budding scientist. Featuring favorite Dr. Dhoot's computer science titles, these emerging STEM e-books will make any science lover happy!
Written by science expert Dr. Dhoot, the e-book set includes four educational books with 2-levels of learning built-in, perfect for your growing reader. The set features bold, colorful, and simple illustrations and text introducing emerging computer science principles for fun early learning.
Books Included in this Four-Book Set:
Machine Learning for Kids
Artificial Intelligence for Kids
Neural Networks for Kids
Supervised Machine Learning for Kids
This –e-book set introduces basic scientific concepts and STEM to even the youngest scientist (and yourself!).
Recommended for children 8 years and older:
Amazon
NEW AND IMPROVED – The KikoRobot.962 is similar to the older award-winning model, equipped with the same I/R (infrared) and AI (artificial intelligence) technology that made the original a fan favorite, but features an improved gearbox and an eight-leg design. The new design allows the robot to reach much higher speeds than the KIKO.893, leaving the old version in the dust. The new blue design is even bigger than its predecessor, measuring in at 5.31" L x 5.12" W x 7.09" H.
STEM LEARNING – This 192-piece STEM kit will provide a child an opportunity to learn more about artificial intelligence, machine learning, and engineering concepts. The construction of the robot will also require those assembling Kiko to be able to follow written directions.
EXPLORE MODE – The AI capabilities will be demonstrated when our friendly Bot is working his way to complete handmade obstacles with ease. The explore mode is meant to try and challenge this world traveler. His eight legs and 360-degree turn radius allow for seamless maneuvering around obstacles.
Amazon
FOLLOW-ME MODE – With a slight hand motion in front of his eyes, you'll have a new best friend capable of following you around for as long as you guide him. Boys and girls will love having a friendly robot companion pursue their every move. The I/R technology allows for a special connection to be made with Kiko as you lead him around.
PARENTS LOVE KIKO TOO – It's not just the child that enjoys Kiko, but the parents will look on with glee as their budding engineer builds this toy robot. The perfect STEM project; parents will love that playtime is both fun and educational. 4 "AAA" batteries are required, but not included.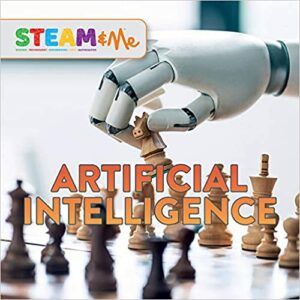 Amazon
Explore artificial intelligence―the programming that teaches computers to be brainy!
Did you know that you can teach a robot to play soccer? Or that you can ride in a car driven by a computer? Discover how AI learns and grows, as well as how it identifies objects by recognizing differences and similarities!
Ignite your scientific mind with fun facts, activities, and experiments. Try this: Hum "Twinkle, Twinkle Little Star," "Baa, Baa, Black Sheep," and the ABCs. Do you notice any similarities? Soon you'll be thinking just like an AI program!
This STEM-driven series helps beginning scientists and engineers grasp big scientific ideas with:
Intriguing info to fill and thrill your brain.
Hands-on activities to jump start your imagination.
Great photos to help you get the bigger picture.
New ideas sure to change the way you see the world.
From Starry Forest Books, STEAM & Me™ uses science, technology, engineering, arts, and math to feed curiosity and spark creativity. STEAM & Me™ is all about you!
Take-A-Ways
This post was written to support parent, families and teachers in discovering 4 Benefits for Children in learning STEM for an Artificial Intelligence World. Artificial intelligence refers to the simulation of human intelligence in machines so that machines think like and mimic human behavior. Artificial intelligence is considered the skill of the century. Artificial intelligence applications are extensive and our children are fascinated about its usage. Exposing children to these applications allow for greater insight and innovation in the STEM field. Artificial Intelligence can create almost 58 million jobs and contribute up to $15.7 trillion to the world economy by 2030. Our children need to be prepared for these careers to fulfill their dreams.
It is my sincere desire that this post was relevant and assisted you to support your child. Please feel free to leave your opinions, ideas, comments, and questions relating to this post. I am more than happy to respond to you in a timely manner.
You are free to share or like this page on any of the above social network. Click on them (Twitter, Facebook, Pinterest) on the top right of the page.
I welcome you sharing your children's experiences using the suggested resources. Thank you for stopping by and have fun engaging your children!
Tracy-Ann Morgan-Smith, PhD, JP