The ability to have knowledge and to use it to think critically is the driving force of success in the 21st century and will continue to be beyond. The challenges of the 21st century call for its citizens to foster intellectual growth breaking through complex barriers for sustainability. Subsequently, we need to find solutions that are relevant, current and innovative.
This is why parents, teachers and families must ensure to hone children's critical thinking skills, value good thinking and make it a habit so that society will ensure the future of Science, Technology Engineering and Math (STEM) is secured. This post looks at how we can influence children's critical thinking skills so that they enjoy the learning and thinking process and 5 top critical thinking activities for children's progress in STEM learning.

Amazon
What is Critical Thinking?
Critical thinking is the ability to make use of stimulus to coin knowledge and then use the insight to solve problems or make judgment. This means the thinker uses strategies hence the thinking is purposeful, inquiry driven, use of logical inferences, reasoning and evidence-based. In its simplest form , critical thinking  is a cohesive pattern of thinking involving the reasoning and evaluating that went into the thinking process to arrive at a conclusion or judgment to inform decision.
Amazon
A Skills-Based Approach in Honing Children's Critical Thinking Skills 
Now that we know what is critical thinking we are better able to assist our children in building and developing their critical thinking. The foundation for building critical thinking for children is using skills based approach. This involves allowing them to use their experiences to think in ways to create new knowledge using previous knowledge and then applying new knowledge. Getting our children to be critical thinkers within the first decade of life set them up to succeed for life.
Of course, dividing the thinking process into discrete skills is necessary to break up the critical thinking process into manageable pieces for children. Please note these skills are broken down just to allow us to understand the thinking process as the process is cohesive and interrelated.
One of the main set of skills to be developed and expanded is a child's executive function skills. Executive function is guiding and managing the thinking process having the ability to pay attention even amidst interruptions. This involves managing behavioral and emotional responses.
One of the most important executive function skill is working memory. Working memory keeps information up front just when it is needed in the critical thinking process. This is the information that is held and is being paid attention to (even after being exposed to interference) which is critical for solving the problem.
Why should parents, teachers and families pay attention to this? Children with high working memory have better math and reading skills, while children with poor working memory consistently under perform.
Here are other supporting skills to be honed to get your child on the road to STEM success:
Motor Skill development & coordination– the ability for children to move and manage their body parts to achieve tasks. For example, stocking objects or pushing objects
Hand-Eye Coordination– the ability for children to use their hands to do tasks involving visual concentration. For example to use theirs hands to pull a string through a small opening
Logical Thinking– sequencing thoughts to achieve a desired outcome
Problem Solving– to use thinking process to arrive at a conclusion
Teamwork & Collaboration– working with others such as peers or adults gaining insight and support in finding solutions
Social Skills– ability to get along with others
Creativity- use of knowledge to create
Innovation– invention based on knowledge or insight from the thinking process
Imagination– testing of hypotheses in a child's world
Spatial intelligence – use of space and understanding of objects and self in space
So what better way to facilitate children's intellectual fluency and critical thinking than by giving them practice to form habits. Here are some recommended activities for your child's progress.
So Let's get ready to flex their  mental muscles and put their brain to work promoting development of critical thinking, reasoning and problem solving skills!
Disclosure-This page has affiliate or referral links. As an Amazon Associate I earn from qualifying purchases. This means I receive a small commission if you decide to click through and buy anything. This is at no extra cost to you but helps me to maintain my website. The information in this post is based on research and my professional experience. I am not paid for my opinions, suggestions and or recommendations. I take the time to research resources and make them available to you. I never recommend poor-quality products or create false reviews for sales. You are free to make your own decisions when purchasing. Full Disclosure
Top 5 Recommended Critical Thinking Activities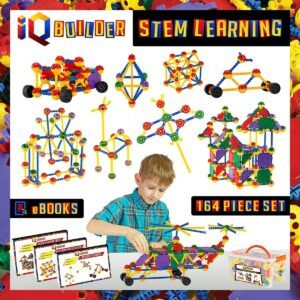 ✮ IQ BUILDER has created a brand new and unique set of educational toys with a strong emphasis on STEM LEARNING to help children build a solid foundation in Science, Technology, Engineering and Mathematics.
✮ IQ BUILDER was inspired by a group of teachers and toys have been applied in classrooms to assist in demonstrating concepts of geometry, physics and mathematics to students ranging from elementary school children to adults attending graduate degree programs.
Includes three e-books so anyone can play no matter their skill level.
Each ball has 26 connecting points and our set comes with four different length connector pieces allowing for great flexibility in design and creativity!
Tested by a Consumer Product Safety Commission (CPSC) approved lab in the USA and found to be LEAD-FREE, BPA-FREE and PTHALATE-FREE.
Toys are washable with just a rinse of warm water and our storage container makes it easy and painless to put the toys away when not in use! .
IQ BUILDER offers a 30 day no question asked 100% money back guarantee on products.
Click the title name at number 1 and make your purchase on Amazon.
Amazon
This collection contains more than 90 puzzles, including memory, word, and number workouts; codes; battleships; and mind-bending spot-the-differences.
There are hours of fun to be had with Japanese puzzles, including hanjie, kakuro, hitori, sudoku, and lots more. Let the brain games begin.
Click the title name at number 2 and make your purchase on Amazon.
Amazon
Portable puzzle set keeps kids thinking in the car or on the plane
Ten different puzzle types challenge numerous skill sets, including math, problem solving, and imaginative play
Includes games for one and multiple players
Sturdy carrying case makes storage and cleanup simple even on the go
Ages 5+
Click the title name at number 3 and make your purchase on Amazon.
Amazon
Trusted by Families Worldwide
With over 50 million sold
ThinkFun is the world's leading manufacturer of brain games and mind challenging puzzles for developing critical thinking skills
Playing your way through the challenges builds spatial reasoning and planning skills, and is partly an engineering and building toy that provides a great stealth learning experience for young players
What you get – Gravity Maze is a combination logic game, marble run, and STEM toy that's one of the best gifts you can buy for boys and girls age 8 and up
It contains 60 challenges from beginners to expert, a game grid, 9 towers, 1 target piece, and 3 marbles
Clear instructions – Easy to learn with a clear, high quality instruction manual You can start playing and solving right away
Comes with multi-level challenges –
Gravity Maze comes with 60 beginners to expert challenges that become increasingly difficult as you play through them.
Click the title name at number 4 and make your purchase on Amazon.
Amazon
Know the name of the game when it comes to brains?
Then get ready kids, because here's a collection of 100 brain-busting challenges that you won't want to miss
From times tables and shape-based search scenes to mental arithmetic conundrums and pictorial puzzles, there are so many ways to prove your Brainiac status!
Packed to the brim with logic, reasoning, and problem-solving puzzles, these books are built to help kids make the most of their gray matter.
Any game can be tackled on its own, but since the puzzles get harder farther the books go, you might want to start at the front and work your way towards the back.
Let the Brain Games begin!
Click the title name at number 5 and make your purchase on Amazon.
Take -A-Ways
Parents, teachers and families can provide developmentally appropriate activities for children to give them practice and to form habits in becoming good critical thinkers. Honing children's critical thinking skills is one of the best ways to support STEM awareness.
I welcome you sharing your child's experiences using these suggested resources. Please feel free to leave your opinions, ideas, comments, and questions relating to this post below. I am more than happy to respond to you in a timely manner.
You  are free to share or like this page on any of the above social platforms. Click on them (Twitter, Facebook, Pinterest) on the top right of the page.
Thank you for stopping by and have fun engaging your children!
To all the fathers who continue to support your children and families Happy Father's Day from STEM Education 4 Children!

Tracy-Ann Morgan-Smith, PhD, JP