Humans gather information through the senses and every day we make decisions based on information we gather, More than 80% of the nervous system is involved in processing or coordination of sensory input. Subsequently, the result of this process is an organized brain which forms our perceptions, behavior, and learning. Research attest, well –developed sensory integration has strong correlation with academic achievements and cognitive processing. Since we all need our children to learn, giving them opportunities to be engaged in sensory play is most beneficial for learning and honing their science, technology, engineering and mathematics (STEM) awareness.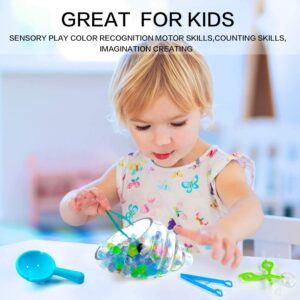 Amazon
What is Sensory Play?
Sensory play includes the participating in activities that stimulate children's senses of touch, smell, taste, sight and hearing, as well as movement and balance. Play opportunities are provided for children to participate in multi –sensory experiences within a comfortable environment allowing them to engage and explore sensations and successfully develop appropriate adaptive responses.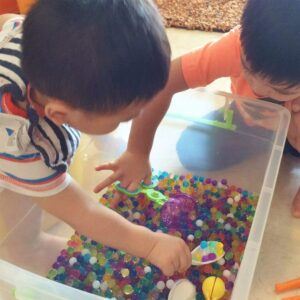 Amazon
Learning is directly related to the exploration of the child's environment through play experiences. Sensations via sensory activities enter the child's brain. They are matched and processed to make an effective response. Activities are selected from the following categories to support needs and interests of the child:
Auditory
Visual
Olfactory (smell)
Gustatory (taste)
Tactile tolerance
Balance and movement
Learning outcomes therefore support motor, social, language, cognitive and STEM development.
Benefits of Sensory Play
Sensory play builds nerve connection to form positive pathways in a child's brain. This fundamental benefit means parents, families and teachers can use sensory play to assist children to develop trust for taste, texture, social interactions, and provide a safe environment to calm the anxious, nervous or frustrated child. These experiences impact children's behavior, responses and assist them in making choices and complete complex learning tasks.
Amazon
Others benefits of sensory play include:
Build problem solving skills
Aid in developing and enhancing memory
Support critical thinking
Provide opportunity to play in multiple media/ environment
Build spatial awareness
Provide tactile stimulation both for typically developing children and those with sensory challenges
Support hand- eye- coordination
Build self –regulatory skills
Build fundamental math and science concepts
Encourage imaginative play and exploration
Build awareness of body movement
Encourage creative self-expression
Support the use of more than one sense at a time
Support independence through self-directed play
Develop fine and gross motor skills
Allow the understanding of cause and effect
Support understanding or interpretation of real-life situations
Exploring with the Senses
Children are excited to explore through the senses. From color to movement, the brain processes this visual input. Colors and interactive lights stimulate the visual senses. Observing color change, patterns and movements are unique visual elements in supporting STEM learning. The interest and fixed attention created by visual stimulation and sensations drives attention, curiosity and inquiry.
Splashing, pouring water, jelly beans, pebbles, listening to the sound of tools against different media and customized sound effects are all part of the auditory experience in sensory play. Differentiation can occur in terms of the intensity of the sounds. Sound effects provide an optimal form of self-regulation and teaches a cause-and effect relationship, which enhances cognitive functions.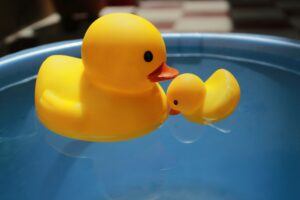 Srinivas Bandari
There is a spectrum of tactile experiences. These include, feeling bubbles on the skin, touching objects made of different materials, soft, crispy, rough, smooth, sticky and sandy. Manipulating objects of different shapes and sizes. Using water, clay, dough, paper, paint, Legos, blocks, tools, grains and food of various textures.
Children welcome the taste of foods so fruit and vegetable salads provide a treat for taste buds, not to mention the delights from baked products, jelly, and jams. The sense of smell is also stimulated from smell of baked cookies, scented crayons, pencils, added scents such as lavender and vanilla to sensory displays. Providing children, the opportunity to explore their environment through the senses is the best way to support learning and development.
Sensory Activities to Provide for Your Child
Sensory bins or sensory tables are developmentally appropriate sensory activities for children of all ages. If you want your child to have the best sensory experiences, to focus, explore, discover and create play opportunities for learning then you need to choose sensory bins for your child's engagement.
A sensory bin is a large enough container to allow your child to explore, filled with a preferred filler with added tools and materials to provide unique sensory experience. Sensory bins are diverse and can be changed by removing and adding fillers, tools and materials based on age and interest of your child.
Amazon
Making a Sensory Bin
Purchase a plastic container, measurements of 24″ long, 15″ wide and 6″ deep. Choose a filler which may include, water, or colored rice, colored sand, birdseeds, pebbles, jelly beans. Add funnel, jars, tools, scoops, shovels, diggers, sensory bags, measuring cups and any other materials or toys needed to create sensory experiences for your child. You may also add pastas, seashells, acorns, cotton balls, and beads.
It is important that parents and families observe safety rules regarding small objects that can cause choking. Please ensure young children are supervised during activities. Some products do have expiry date so remove them when shelf life is expired and replace with new ones. Young children tend to mouth objects so nontoxic materials are to be chosen.
STEM Sensory Activities
Provide variety of objects with diverse texture and colors to sort and categorize
Dig for numbers and number symbols to solve math problems
Make different patterns using shapes in filler or create shapes by filling containers to create patterns. Use objects of different shapes and sizes to create patterns
Hidden Treasures–bury small objects, such as mini dinosaur toys, in rice or beans
Dry materials bins, sand table–fill with a selection of oatmeal, flour, rice, barley, other grains
Shaving cream projects
Gardening and indoor plants projects
Pudding paint projects;
Baking/baking projects–making pizza dough, grating cheese; rolling out and cutting cookies, putting them on cookie sheets.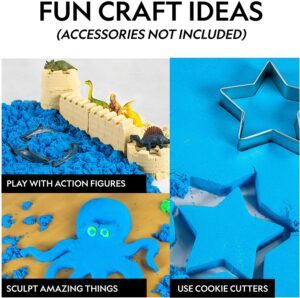 Amazon
Other activities include:
Position in space/motor planning
Pushing, pulling or lifting against joints, ligaments and tendons, leading to sequential components of a task.
Do floating and sinking activities
Make sensory bottles
Use Legos to build towers
Create theme parks  using animals, outer space objects, water toys, construction materials, sound and movement.
Disclosure-This page has affiliate or referral links. As an Amazon Associate, I earn from qualifying purchases. This means I receive a small commission if you decide to click through and buy anything. This is at no extra cost to you but helps me to maintain my website. The information in this post is based on research and professional experience. I am not paid for my opinions, suggestions or recommendations. I take the time to research the resources and make them available to you. I never recommend poor-quality products or create false reviews for sales. You are free to make your own decisions when purchasing. Full Disclosure
Top Recommendations
Here are two top recommended resources you can purchase for your child's sensory play experience. As the holidays approach, please made prudent decisions in purchasing gifts for children. Invest in their learning and development. Here is the prefect holiday toy list to choose from. Click on link to Amazon.
Click on number 1 or 2 title name to purchase recommended sensory bins  on Amazon.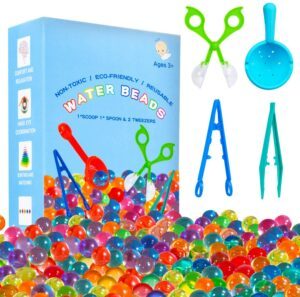 SAFE & NON-TOXIC: The set is made of non-toxic environmentally friendly completely safe materials for both children and the environment. The water beads have high elasticity and good toughness.
 ENDLESS FUN: Allow your child to watch the water beads grow from very tiny beads to a bigger size in just a couple of hours. Soft to the touch and suitable for bathtubs, small kids' pools, kiddie pools, vase fillers, centerpieces, etc.
 SENSORY & FINE MOTOR SKILL DEVELOPMENT: These sensory balls are great for children with sensory processing disorder, autism, color recognition and coordination problems.
 COMFORT & RELAXATION: The soft texture of the water beads, along with their slippery nature, provides a sense of comfort and relaxation. Whether the kids are focusing on the feeling of the beads between their fingers, or the lightweight sensation in their palms, the water beads will provide a sense of relaxation and lasting calm.
 HAND-EYE COORDINATION: Each set comes with the water beads, 2 tweezers, 1 scoop and 1 spoon to enhance hand-eye coordination. They will be able to grab the beads with them and play while enhancing their sensory and fine motor skills.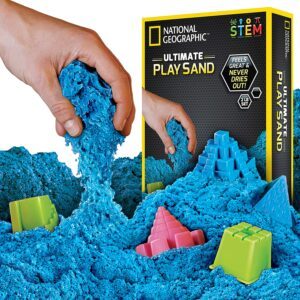 SENSORY SAND – This sand is kinetic, so it sticks only to itself and not to you! This perpetually "wet" sand is perfect to mold, shape, and squeeze 6.
EXCITING MOLDS – Kids can build castles, pyramids, and more with the 6 different molds included.
2 POUND SAND SET WITH TRAY– A special mixture of sand that doesn't dry out, allowing you to use it again and again.
NON-TOXIC & MESS-FREE –This hypoallergenic sand is non-toxic and super easy to clean up!
RESPECTED QUALITY – Providing children with the best educational toys, this kit is backed by National Geographic's 100% satisfaction guarantee.
Take -A-Ways
This post presented why sensory play is prefect for your child's STEM awareness. Sensory play allows children to participate in multi –sensory experiences within a comfortable environment allowing them to engage and explore sensations and successfully develop appropriate adaptive responses. A number of sensory activities were recommended to parents, families and teachers to hone children's STEM awareness.
It is my desire that you found this post valuable and that you will make good on the recommendations offered. Click on link to Amazon.
Please feel free to leave your opinions, ideas, comments, and questions relating to this post. I am more than happy to respond to you in a timely manner.
You are free to share or like this page on any of the above social networks. Click on them (Twitter, Facebook, Pinterest) on the top right of the page.
I welcome you sharing your child's experiences using the suggested resources. Thank you for stopping by and have fun engaging your children!
Tracy-Ann Morgan-Smith, PhD, JP