Early learning experiences can engender children's sustained interest, motivation and knowledge for learning science, technology, engineering and mathematics (STEM). Children's first experiences for STEM learning occur in the home. Parents and families should offer children endless opportunities for engaged learning. STEM books are excellent resources parents and families can invest in to boost children's STEM awareness.
Why Start Early?
Children's early exposure to fun and creative ways of learning STEM promote future learning about STEM and life long pursuits in STEM field. Simple, if we get our children from early to learn STEM, they are more likely to want to express interest in STEM careers, do better at school in STEM related classes and express more interest in real world STEM related activities.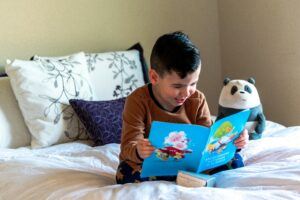 Gabriel Tovar
Early STEM exposure and learning opportunities promote children's curiosity, convergent and divergent thinking, analysis, creativity, decision making, Innovative skills and the sheer thrill of figuring things out. It is allowing our children to become problem solvers. Such engagements allow them to make connectivity with real world situations and connect knowledge from one area to another.
These engagements becomes relevant as children progress through school. They become more confident in STEM. Thus, the subject matter engaged in at school will become personally meaningful, capturing their hearts and minds. Learning will have a purpose, one that interest them and enrich their lives.
The Power of STEM Books
STEM books support children to build a deep integrated knowledge of STEM. These books present the opportunity for practical application of knowledge and problem solving. The Best STEM books help by connecting children's learning to their lives. For learning experiences to be optimized, children need to retain and use the knowledge they gain from books through recall and transferring in realistic ways and contexts.
Parents, families and teachers must support learning by allowing children to engaged in practical, hands on activities that are relevant for learning. What is needed for 21st century children is a redesigning of their learning experience if they are to achieve STEM fluency. STEM books are to be used as a catalyst to engage children's creative minds and ignite their ideas at home and inside and outside the classroom.
Best STEM Books allow children the opportunity to interrelate across disciplinary boundaries. Parents, families and teachers can use these books to foster children's critical thinking. STEM books are excellent resources for informal and formal learning activities. Reading and engaging in activities from books is a cultural practice. STEM books should then be easily introduced as part of home library or children's reading collection.
Catherine Hammond
Now that the argument is made let us go and discover 5 top STEM books you can invest in to support your child's STEM awareness.
Disclosure-This page has affiliate or referral links. As an Amazon Associate I earn from qualifying purchases. This means I receive a small commission if you decide to click through and buy anything. This is at no extra cost to you but helps me to maintain my website. The information in this post is based on research and professional experience. I am not paid for my opinions, suggestions or recommendations. I take the time to research the resources and make them available to you. I never recommend poor-quality products or create false reviews for sales. You are free to make your own decisions when purchasing. Full Disclosure
Top 5 Recommended STEM Books
What Can I Be? is a great book to introduce children as early as five years old to STEM Careers. STEM Careers are identified from A to Z in an inspiring and easy-to-read alphabet picture book. This book teaches the next generation about Science, Technology, Engineering, and Math (STEM) careers.
What Can I Be? provides colorful illustrations showing diversity with children representing various STEM careers (i.e. astronauts, doctors, scientists, and engineers, etc). Such visual representation helps children 5 to 8 years old see themselves in one of the STEM careers, and motivates them to shape their future through STEM!
Parents, if you want to excite your child about STEM this is a great way to start. Click the title name at number 1 and make your purchase on Amazon.
STEAM Kids offers a year's worth of captivating STEAM (Science, Technology, Engineering, Art & Math) activities that will wow the boredom right out of kids! Created by an MIT engineer, award-winning educators, designers, and homeschooling experts.
STEAM Kids will inspire your children to: question like a scientist, design like a technologist, build like an engineer, create like an artist, deduce like a mathematician – and, most importantly – play like a kid!
Inside you'll find entertaining and educational projects like: – Rainbow Reactions – PVC Pipe Slingshot – Grafitti Art & Science – Color Changing Play Dough – Diaper Science – Circuit Bugs – Candy Mazes & so much more!

Perfect for children ages 4-10, years old all the step-by-step activities are helpfully coded with difficulty indicators and estimated project times. Helpful project extensions promote further exploration and learning for enthusiastic children.
Bonus materials will make things easy for parents and educators, and include: a handy weekly planning guide, project shopping lists, STEAM journal and more. So gather up your curious kids and get your STEAM on!
Click the title name at number 2 and make your purchase on Amazon.
A #1 New York Times Best Seller, What Do You Do With a Problem? is a story for anyone, at any age.
From the same author and illustrator as the #1 nationally best-selling What Do You Do With an Idea? comes another book to encourage you to look closely at problems and discover the possibilities they can hold.
This is the story of a persistent problem and the child who isn't so sure what to make of it. The longer the problem is avoided, the bigger it seems to get. But when the child finally musters up the courage to face it, the problem turns out to be something quite different than it appeared.
In a wonderful balance of text and pictures, this book inspires children to feel good about themselves. Great way to help children become problem solvers and divergent thinkers. Can be introduced to children as early as 5 years old.
Click the title name at number 3 and make your purchase on Amazon.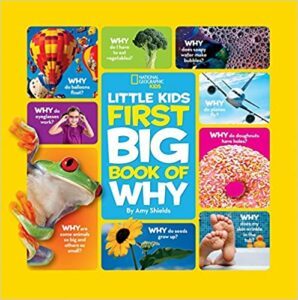 The Big Book of Why is just great for preschoolers! Using an interactive question-and-answer format and content grounded in a child's immediate world, the Big Book of Why delivers lively information, hands-on games, simple recipes, crafts, and more. What makes a car go? How does mushy dough become a crispy cookie? What does the doctor see in my throat?
An essential parent reference, The Big Book of Why invites children to ask big questions, think big thoughts, and get answers that are accurate, engaging, level-appropriate, and based on sound educational findings.
It helps prepare preschoolers for school in an interactive way—the very best way to foster learning at this age, according to research. Highly photographic and playful, this big book is an adventure in exploration.
Click the title name at number 4 and make your purchase on Amazon.
From the Solar System to the Milky Way, from Mars to Mercury, from UFOs to the Space Shuttle, Smart Kids Space is an ideal first guide to the mysteries and wonders of our incredible universe. Is an amazing fact-packed book.
Written in an accessible and fun style, the informative text is perfectly complemented by visually stunning, large-sized, full-color photography. Perfect book to introduce children aged three and over to the fascinating world above us.
Click the title name at number 5 and make your purchase on Amazon.
Take-A-Ways
STEM books are recommended to aid with the redesigning of how 21 st century children learn. They are excellent for creating enthusiasm, interest and motivation for learning STEM related content. Children's early exposure to fun and creative ways of learning STEM promote future learning about STEM and life long pursuits in STEM field.
Parents, families and teachers are encouraged to give children early experiences to engaged in STEM activities so that, children acquire knowledge and aptitude to be relevant and current in a STEM world.

This post was especially written for parents, families and teachers to support children's STEM awareness by exposing them to STEM books at an early age. It is my desire that, after reading you are better able to meaningfully engage children through reading and activities so that they will achieve the desired outcomes.
Please feel free to leave your opinions, ideas, comments, and questions relating to this post. I am more than happy to respond to you in a timely manner.
You are free to share or like this page on any of the above social network. Click on them (Twitter, Facebook, Pinterest) on the top right of the page.
I welcome you sharing your child's experiences using the suggested resources. Thank you for stopping by and have fun engaging your children!
Tracy-Ann Morgan, PhD, JP