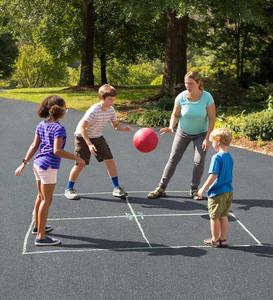 HearthSong
Globally our children are yearning for the opportunity to get back their freedom of the outdoors. While most schools, parks and community play grounds are closed due to the pandemic. Parents can utilize the outdoors in their yards to give children the joy of play and the opportunity of continued learning. One such simple way is to provide outdoor resources for your child to have fun and for STEM learning.
Get Outside and Play
Getting children engaged outdoors in the fresh air and sunshine is a boost to good physical and mental health. The American Academy of Pediatrics recommends a minimum of 30 minutes of outdoor play every day for children. This means play is a prescription just right for children. Currently, with the negative effects of lock downs children and families in general need to apply this prescription daily.
The benefits of outdoor play resources are truly awesome! Children get the opportunity to release tension, stress and anxiety that is a result of the crisis they are currently a part of. Active outdoor play is a therapy as it releases endorphins which create positive mood and boost energy. This is great for children's psychological wellness and mental health in general. Children also build their motor skills and develop their reflexes, they learn balance and coordination, build strong muscles, burn body fat, ultimately reducing the risk of childhood obesity.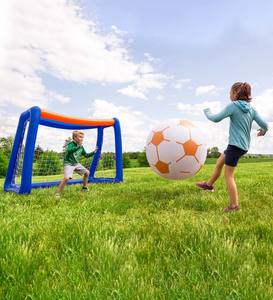 HearthSong
Providing outdoor or back yard play resources have positive impact on children learning STEM. Active play resources assist children in building meta cognitive skills, build and develop executive function skills, critical thinking, reasoning, innovation and problem solving skills. Children are also given the opportunity to develop and expand on their spatial orientation through movement. These skills support children's prospect in science, technology, engineering and math.
Your child is given the opportunity to develop these foundation skills and utilize them through play. This sets your child on the road to success and ensures the application of learning in and out of school settings. Children will therefore be able to concentrate more on tasks assigned, pay attention to academics, reason, think critically and solve problems. Active play also promotes positive behaviors in children.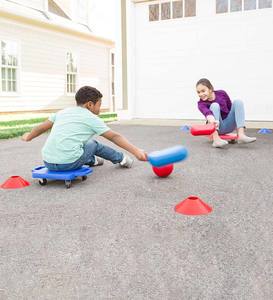 HearthSong
So let us go outdoors for some real active play adventures in swinging, climbing, running, rolling and engaging in some meta cognitive tasks with some of the best outdoor play resources you can find to meet your child's need for fun and learning. One very important bit of reminder for parents, children should always be supervised while engaged in outdoor play. Parent must follow all guidelines for the assembling of play resources including weight requirement and any other safety procedures stipulated by manufacturers.
Disclosure- this page contains affiliate or referral links which lead to products I may receive compensation for if you decide to click through and buy anything. I receive a small commission that helps me maintain this website. This is at no extra cost to you. The information  in this post is based on research and my professional experience. I am not paid for my opinions , suggestions and or recommendations. I take the time to research the best resources and make them available to you. I never recommend poor-quality products  or create false reviews for sales. You are free to make your own decisions when purchasing.   
Top 6 Recommendations:
Let's Go Swinging
HearthSong FunShine Platform Tree Swing, made from comfy, stretchy material.  It's the perfect place to swing and sway. Four 60″L nylon ropes allow two-point hanging. Soft nylon 12″-diam. Seat crafted of stretchy bungee cords, and breathable mat, in a sturdy steel 32″-diam. Frame is a great way to brighten the day. Swing provides freedom of movement. Soft nylon seat crafted of stretchy bungee cords
Durable, sturdy steel frame
Colorful swing holds up to 200 lbs. and measures 32″ diam.
Children ages 6-12 years can enjoy a whole new slant on swinging. Adjust the seat to your optimal angle for comfort and fly! Adult supervision required.
Let's Go Jumping
Large round inflatable trampoline engages children in active play and is a great way for them to exercise gross motor skills while having fun.
Springy center mat for jumping
Super thick, specially coated PVC for strength
Base of the trampoline contains two water compartments that can be filled for stability
Easily inflates and deflates for storage and travel
Solid construction ensures this is one trampoline that children can bounce on for years
Children ages 6 – 12 years can jump up and touch the sky .
Children will spend hours bouncing and giggling on this super fun trampoline that can be played on both in the backyard or the basement-wherever the fun is calling. Learn simple beginner trampoline tricks, or just jump off some energy! Adult supervision required.
Let's Go Bumping
HearthSong Twice the fun —set of TWO Buddy Bumper Balls
Strong enough to withstand bumping, bouncing and rolling; maximum weight 200 lbs.
Helps children build strength and balance
Bounce, bop, and bump inside this translucent, inflatable ball and let the big fun begin.
Children ages 6 -12 years can have a blast with these giant balls they can get inside. Nonstop moving, laughing, bumping and bouncing! Buddy Bumper Balls are so fun, we offer a boxed set of two!
For long-lasting fun, be sure not to over inflate. Adult supervision required.
Let's Go Rolling
Let the good times roll with our Roll With It HearthSong  Giant Inflatable Colorful Wheel! Kids spin and roll in a soft, colorful wonderland.
Endless play possibilities for active, engaging play
Reinforced seams for durability to withstand plenty of pushing and rolling
Supports up to 200 lbs.
Inside inflated wheel measurement 51″ diam.
Easy to inflate for play and deflate for storage
Children 6 – 12 years can climb inside and move it along by walking foot over foot, on all fours, or have parents push along. Stand outside and roll it all over the place. Lie down and roll in it, like a log rolling down a hill. The possibilities for play are endless!
Not designed for commercial use. Should not be used on rough terrain with rocks, sticks, roots, or gravel present. Donot use when temperatures are below 50 degrees. Should not be used on ice or snow. Donot leave outside when not in use. Adult supervision required.
Let's Go Climbing
This is great for active backyard play. Crawl, climb, and hang on this delightful matrix of bars, then alight on the wooden platform and travel down the slide for a joyous rush of fun.
This geodesic play dome is constructed of sturdy, durable metal struts
Encourages active play
Slide is 4 ft. long
Maximum weight 175 lbs.
Children 4 – 7 years old will find this playground-worthy dome a treasure and parents will love that it keeps children meaningfully engaged for hours. Adult supervision required.
.
Let's Play with A Ball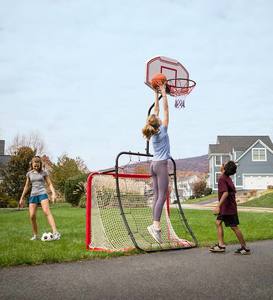 Includes basketball hoop, soccer net, and baseball rebounder that doubles as a lacrosse bounce back net. This easy-to-assemble set offers multiple nets on a two-sided, metal pipe play structure, making it perfect for backyards, driveways, or more compact outdoor areas
Sturdy metal components
Two-sided play means multiple players at time!
Easy assembly; instructions and Allen wrench included. The set measures 62″L x 47″W x 122″H
Children 8- 16 years old can get their games on!
Take -A-Ways
Parents can utilize the outdoors in their yards to give children the joy of play and the opportunity of continued learning. While schools, parks and playgrounds are closed, children are to be given the opportunity to engaged in outdoor play. The American Academy of Pediatrics recommends a minimum of 30 minutes of outdoor play every day for children.
Playing and participating in outdoor activities have positive impact on children learning STEM, release tension, stress and anxiety that is a result of the crisis children are currently a part of. It also promotes increased attention span, cognitive development and supports positive behaviors. Parents are encouraged to give their child the best start possible by investigating in outdoor play resources to harness critical skills and concepts for their current and future developmental needs.
This post was especially written for parents and families to support children's development through play. I hope after reading you are better able to choose outdoor play resources to support children's learning and development. Please feel free to leave your opinions, ideas, comments, and questions relating to this post. I am more than happy to respond to you in a timely manner. I welcome you sharing your child's play experiences using these suggested outdoor resources. Thank you and have fun engaging your children!